Daily Palindrome Widget
It's easy to have the Daily Palindrome on your website or blog. Whether you use Wordpress, another platform, or built it yourself, it all starts with a small code snippet.
The Daily Palindrome widget fits any page. Here it is in action, with today's palindrome.
The palindrome changes every day, two minutes after midnight in Denver. It draws from a large collection by anonymous palindromists and a growing body of original work by contemporary writers. The newer palindromes all come from members of Franklin's Palindromedary who use the Palindromedary reference and Palindrome Composer in their writing.
Daily Palindrome Widget Code
Copy the code below and paste it into one of your web pages. It works well on WordPress (WP) sites and should work on systems like Drupal, Joomla and others. I tested it on Helioza.com, my WP site. Click the button to copy the code to the clipboard. Then paste it where you want it to appear.
Get Code
Add Widget To WordPress Site
The easiest way to get the Daily Palindrome on your WP site is to paste it directly into the content using the block editor. Just edit the page or post and add a new block. Select the HTML block type and paste the code into the block. The image below shows the result.

Then click the Preview button to see the current palindrome. Easy and done.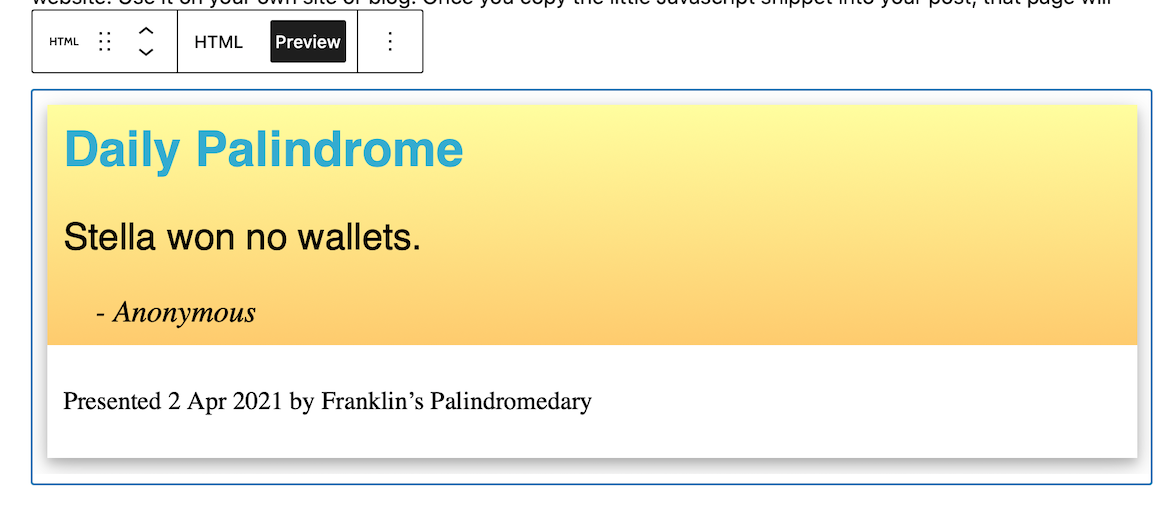 Once saved and published, your page will display the Daily Palindrome, updating once per day. Thank you for using this feature.
Amazon Associate?
Are you an Amazon Associate? If so, you can earn commissions on Palindromedary ebooks. Check out the books below, set up your affiliate links, and display them on your website. Our first anthology of original palindromes is due to launch on 1 September 2022. I expect strong demand. Check back here to get the anthology title and link.
Franklin's Palindromedary, the ebook edition of the unique reference tool that helps anyone create original palindromes.
How To Write Great Palindromes, a deep dive into methods for composing original palindromes, with insanely detailed examples.
Release your creativity!
Memberships are FREE. I'm grateful for your interest.

Join Now!